International nanbudo federation was founded in Summer 2010 (INF.pdf), with the aim to promote and develop nanbudo sport and martial art as well as nanbudo competitions – internationaly. The seat of the INF is in Geneve, Switzerland. INF is a result of almost 40 years of developing nanbudo sport on different continents, organizing World, European and different international championships, and a wish to continue that development to help nanbudo become a world recognized martial art sport. INF thinks that only by strengthening national federations (by giving them full independence, support and responsability) we can start developing nanbudo worldwide. We must develop strong international network and cooperation among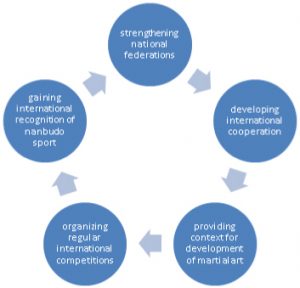 national federations and thus provide a context for development of martial art of nanbudo in all of its aspects, and all of the aspects national federations and clubs in many countries already created. We will achieve our outcomes by democratic principles of running our federation that is governed by the main governing organ – General assembly, that meets once a year and consists of delegates from each member (national federation) with voting rights. The executive functions of INF are the responsibility of the Executive committee, the President and the General Secretary, who are at your full disposal practicaly 24 hours a day.
LAST BUT NOT LEAST:
INF's mission is to unite again all nanbudo organizations into one international movement and organization, by the end of the year 2018 when nanbudo martial art is celebrating its 40th birthday.