Word of the President of INF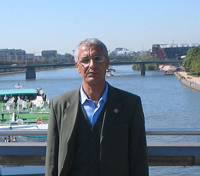 Dear sportists all over the world,
INF is bringing to you a wonderful modern martial art sport founded by Yoshinao Nanbu in 1978. Since then, development of nanbudo had its ups and downs, and in the moment of crisis and uncertain future, INF was founded to provide expansion, development and promotion of this martial art and sport internationaly. We are already gathering a lot of sportist from many countries, but our aim is to grow every day, and bring nanbudo to every country on five continents, so everyone could enjoy practising and being engaged in nanbudo.
We are open to everyone, we are an inclusive and never an exclusive organization. INF invites all nanbudo and other martial art federations that nurture the teachings and techniques of Doshu Soke Yoshinao Nanbu, to join under one general world movement to secure the protection and development of nanbudo martial art. Membership in INF does not exclude memberships in other sport federations and organizations. Joining INF will give you the opportunity to enojoy all the benefits a modern martial art sport can bring to you: big comunity of young people who meet, make friends, share new experiences, compete and celebrate sport – thus in that way contributing to building a peaceful and better world by educating youth through sport practised in accordance with Olympism and its values.
Welcome to INF!
Mostapha Hlal
President INF